Areas Nearby: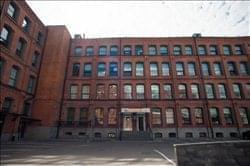 Khamovniki, Moscow - Khamovniki District
From RUB1725 per person per month
This business centre is located in a successful corporate quarter in the Khamovniki area of Moscow and is ideally situated in a part of the city famed for its commercial ambition, growth potential and renowned reputation for vibrant company operations. Named the Red Rose for its bold, brick-built exterior; the comfortable loft-style centre is on the third floor of an attractive building with arched windows and a contemporary styled reception. This centrally located class-A office building is in an established 5.7 hectare quarter that is home to Russian corporations in online search, digital marketing communications, banking, electronics and private investment industries. The quarter is also home to large international firms in aggregates, consulting and advertising.
Complete Form for Full Details
You will receive:
Complete Form for Full Details
You get:
Full pricing details
Full address details
Email & telephone details
Floor plans
Viewing information
To obtain information for your selected Khamovniki Serviced Offices, please tick the "Add to basket" box for each office you prefer and complete the form below. We will then send a detailed report via email.